In his own words, Sadio Mane called last season the worst of his career, but after finally getting a chance to reset, he delivered the words all Reds want to hear.
Since his arrival in summer 2016, Mane has been Jürgen Klopp's fourth most popular player, behind Roberto Firmino, James Milner and Gini Wijnaldum.
These 218 missions were associated with international missions for Senegal throughout the season and into the summer, which meant that he had not had any significant break since 2017.
And you could see that last season's number 10 cumulative fatigue was taking its toll, with Mane being a shadow of his electric and deadly former self.
A record of 16 and nine assists seems like a solid contribution from a winger on paper, but his relegation was undeniable.
A four-week hiatus over the summer seems to have worked wonders as his preseason appearances show a return of the spark we have long missed, and its spiciness will no doubt soon follow.
"I think it's always important to take a break as a player because I can say since I've come to Liverpool this was the first time I've had four weeks or more of vacation so I think that sometimes helps a lot, "Mane told LiverpoolFC .com.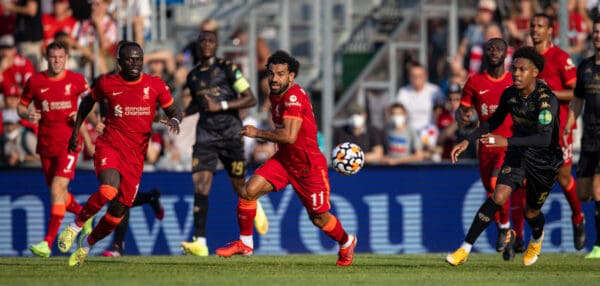 "I could tell from day one that everyone was looking sharp, which was amazing to me!
"I'm not complaining about having a week or two off, but I think it's always extra [helpful] so that we have this long vacation. "
That didn't mean he put his feet all the way up, but the mental break was just as important as Mane thought of fatigue for a long time and now he's ready for an "exciting season".
"At the same time, we work in individual training [during the summer]which is also important because from day one you could see that everyone was looking good and ready for the new season.
"To be honest, everyone and I feel more ready. I always say there is fatigue [in the head] and of course you have to be mentally strong to deal with it, but at the same time I think resting is the best [thing].
"It wasn't my best season, I know that," he continued. "As I always said, it can happen in football, but I think it won't be the same" [next] Season.
"Of course I'm mentally, physically, everything ready, so I think it's going to be an exciting season for me."