Liverpool have shown a near-perfect performance as they tore Man United apart with a series of outstanding performances en route to a record win at Old Trafford.
Few expected Liverpool to walk away from Manchester with such a convincing win, but goals from Naby Keita, Diogo Jota and Mohamed Salah made an easy job for United.
It brought Jürgen Klopp his 200th victory as a coach of the Reds and reached the milestone faster than any other manager in the club's history.
But was it actually his very best win as a Liverpool manager?
After the game, This Is Anfields Jack Lusby (@LusbyJack) spoke to Karl Matchett (@karlmatchett) and Henry Jackson (@ HenryJackson87) to evaluate the many positive aspects.
Where does that count among Klopp's best victories?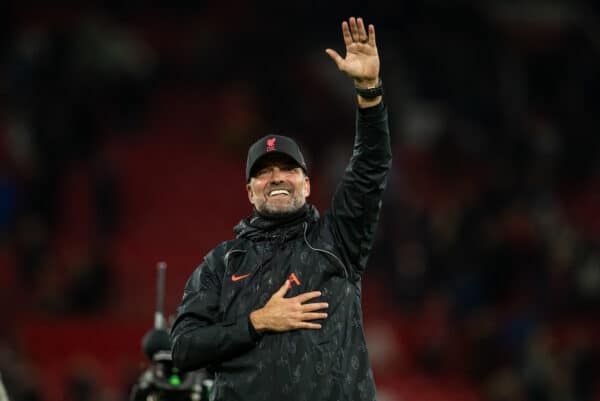 KARL: Overall very high and probably at the top of his home games.
It wasn't just the result and the opponent – though obviously this is just another Watford without those things – but the fact that there was so much control, so much dominance, so much … ease of victory.
Let's face it, the Reds could have scored three more goals if they wanted to or if Jones and Mane had confronted each other towards the end.
We didn't need that and that is the greatest humiliation for them, which makes it all the more impressive for us.
Could imagine it's a mile away, but still … actually seeing it performed was immense, and that makes it the best on the order of Klopp's league appearances.
Overall, probably under Barcelona, ​​maybe City at home in Europe and the final itself, which wasn't that much fun, but was just a perfect performance and earned a trophy.
HENRY: It has to be at the top of the very best that has ever existed. I mean, a 5-0 away game at Man United is really the stuff of dreams. As in, I literally dreamed this would happen!
The performance bordered on perfection, be it the defensive quality, the midfield control or the ruthlessness in the final third.
In the past, Liverpool have been shy and lavish at Old Trafford, but they were absolute killers on Sunday. Every single one of them.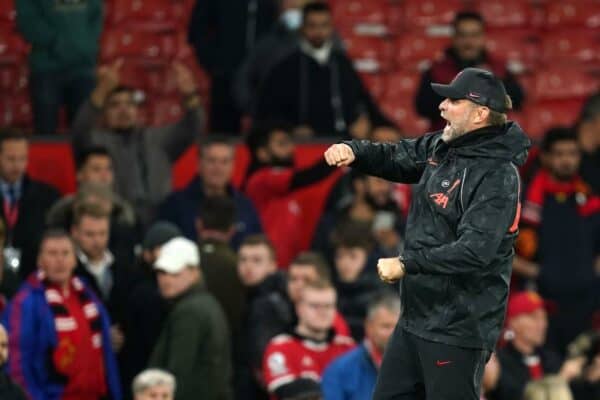 Is it as big a win as the Champions League final or beating Barcelona? Was United as strong as City when we beat them 3-0 in Europe? No.
Regardless, I'm not sure I enjoyed one game more under Klopp, in terms of sheer dominance for 90 minutes against the team I hate more than anyone else, so it could be number one.
JACK: I was watching on my cell phone at an airport so I couldn't enjoy it as I might have, but come on … it's 5-0 at United.
Personally, I have a soft spot for the 4-1 at Man City in 2015 – that was the game that really heralded Klopp's arrival – but that was a better overall win.
I would agree with Karl that it is Klopp's best home win and maybe the second for me after the 4-0 win in Barcelona.
Who, apart from the hat-trick hero, turned out to be for you?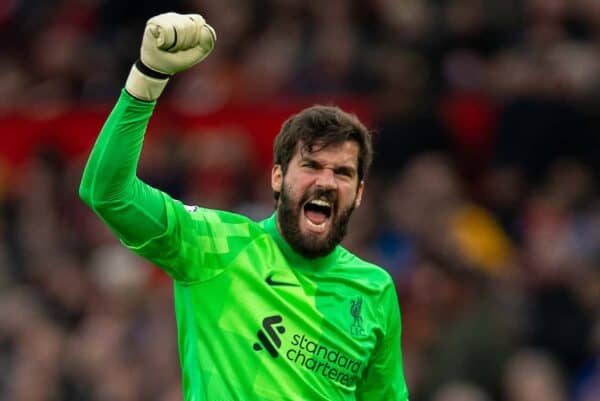 KARL: Many of them! I have to single out Alisson, Keita and Firmino as the first three.
Bit weird to pick the goalkeeper after we beat them but it's easy to forget when a goal is scored and shortly after they started flowing United had a few moments with all that attacking talent and Ali made a few Stops and some great claims to keep them in check.
Keita was wonderful. Have fun finding space between United's ineptitude and beautifully rolled finish for the goal.
He was always available as an extra man on this side of the attack, he did the role of "Elliott" between midfield and attack very well.
And Bobby … loves him. Every little bit of him. Outstanding.
HENRY: Alisson is in the shape of his life right now – he looks unbeatable and is around 7'6 "at times – while Konate has been clear after being thrown against Ronaldo under great pressure.
Alexander-Arnold was a delight as always, while Van Dijk and Robertson were back on top form after a disappointing performance in Madrid.
Similarly, the midfield responded to its critics in the most empathic way imaginable, with Henderson doing so much better after a disappointing start to the season.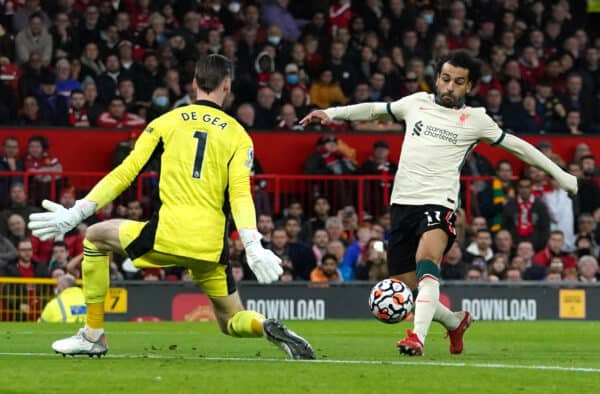 That pass to Salah would be shown for years to come if it was Gerrard, as is the case with his pass to Sturridge in Fulham.
Keita was the midfield player choice, however, and I'm so happy for him after being given a bizarrely unfair stick last week.
He scored, provided assists, was involved in another goal and was relentless on the ball – I just hope his injury isn't too serious.
A special mention also to Firmino, who was at the peak of his strength on Sunday. This was the player we saw between 2017 and 2019 holding the ball up, making selfless runs, using the ball brilliantly, and working tirelessly for the cause.
He was a definite contender for the man of the game, even though he didn't score goals or assists.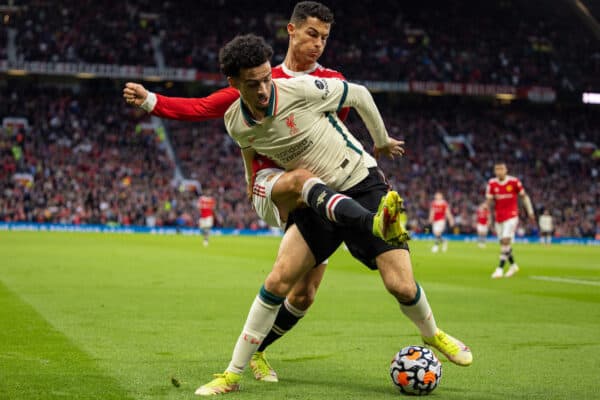 JACK: With Karl and Henry covered every player except Curtis Jones, I'll single out the substitute for the well-deserved praise.
He'd put up a lot of steam with his starts against Norwich, Brentford, Porto and City, then missed the next two games due to an injury badly managed on duty at the England Under-21s.
Regardless of the fact that he is already 2-0 up, it will be a difficult task for the 20-year-old to play United at Old Trafford in 27 minutes – but he did it.
Jones was an improvement over the midfielder he was replacing, James Milner, and should keep his place for the next few games if Fabinho is unable to return.
And what was the choice of gates?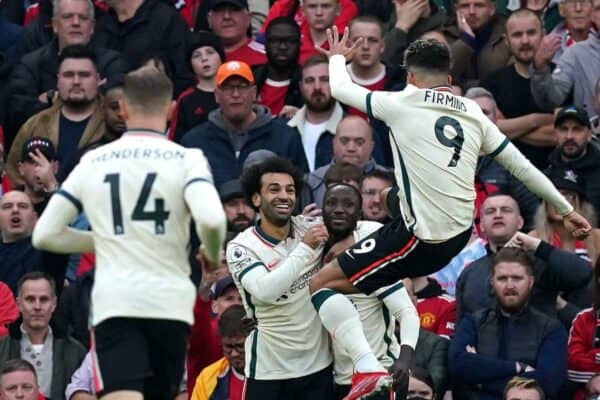 KARL: For me the first!
Six passes from the central defender to the shot on goal from the penalty spot, all accurate to the centimeter, made quickly, into the room and the runners were already expecting it.
It made a mockery of the form United was trying to keep, it had a runner from the depths, which is one of the few regular flaws I think we've seen in our approach over the past few years, and it has made the noise of the deluded Thousands who subdued thought they had a chance.
The fifth was close because it was press, brilliant pass and hat trick, but the first was great for me.
HENRY: The fourth was the best for me, not only because of its quality, but also because it really ended the game as a competition before halftime.
Everything about it was so smooth.
Jota's pass was precise; Firmino's heist game and tricks embarrassed the hilarious Maguire; Robertson's pass to Jota and the Portuguese run into the pits were perfectly timed, the latter's pass to Salah was selfless and the finish was world class.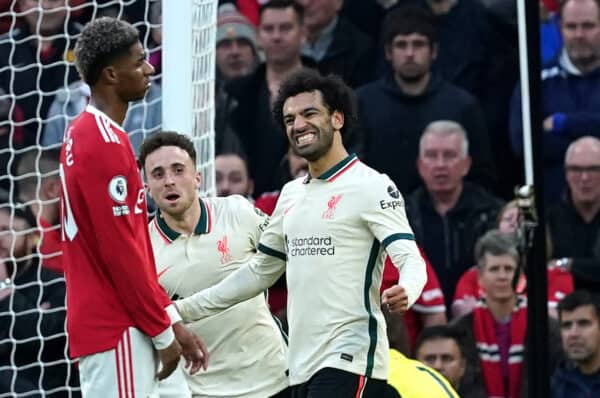 There were great moments with every goal, but that was my personal favorite. Ronaldo's unrecognized goal, however, could have surpassed them all!
JACK: The variety of this selection says everything about the quality and context of the win.
I loved them all, but I expect Jota to make it 2-0 mostly because of the way Harry Maguire and Luke Shaw got into each other to let Keita take the ball.
Oh the joys of it.