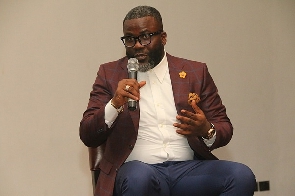 Former Ghanaian defender Samuel Osei Kuffour has responded to South Africa's criticism that Senegalese referee Maguette Ndiaye awarded a dubious penalty to help Ghana's qualification for the World Cup playoffs.
Andre Ayew scored in the 32nd Minute to qualify Ghana for the final round of qualifying after the referee punished South Africa defender Rushine de Reuck for an alleged foul on defender Daniel Amartey.
The South African Football Association (SAFA), which appears to be dissatisfied with the sentence imposed on Ghana and suspects that the game has been fixed, has lodged a complaint with FIFA.
But according to the Black Stars board member, the referee had his decision right after watching the replay.
"When the corner was given, the referee gave the South African defender and Daniel Amartey a warning," Kuffour told Thomas Mlambo on the Ultimate Sports Show, according to the iDiski Times.
"Because they worried each other, the referee, when there was a question there when you watch the video, he questioned you and the incident came in. For me, I was super excited about the goal, even when I go back to the hotel and watch the replay. I can testify that it was a punishment.
"For me it was two touches when I looked at the playback. The one in front of him and the one behind him. If I look at the playback, I can justify that it was a penalty for me.
"For me it's a penalty, you might see from a different angle, you have your opinion on the whole situation," said Kuffour.
"I have my opinion, the referee has his opinion, the people in Ghana have their opinion and the people in South Africa have their opinion. So, for me, from my point of view, we call something like that a contact force, even if it's just the slightest thing that you could see from out there.
It remains to be seen what FIFA will decide after Safa's complaint.